with every kina suave djbonaire mixologies and flibbertyliberty MC patter that matters
in between and surround you in worldOnelovegalore ..
let's see shall we ? what this particular Celebration has in store … 
Please bring your own refillable water bottle which you can replenish at the water fill station. 
Bike parking available.   
ADA accessible seating adjacent to sound tent, grassy, shaded, centerfield.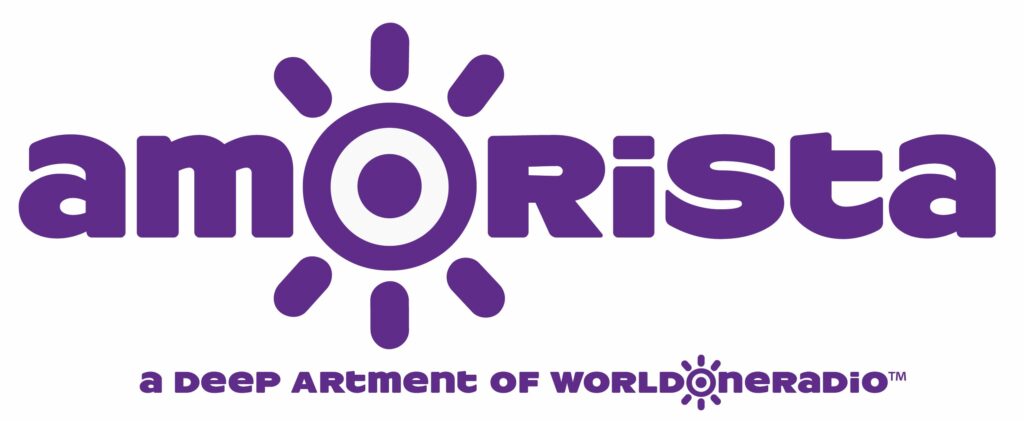 OLDER posts ~~~~~~~~~~~~~~~~~~~~~~~~~~~~~~~~~~~~~~~~~~~~~~~~~~~~~~~~~
A first 2022 batch of fotos here, through the lens of our Beloved fest fotog Fletcher Oaks :  
https://www.flickr.com/photos/fletcho/albums/72177720300544670
~~~~~~~~~~~~~~~~~~~~~~~~~~~~~~~~~~~~~~~~~~~~~~~~~~~~~~~~~~~~~~
EVRYBODi GETCHAbOOMbOX READi !!! U.S.ALL 88.1 FM AttuneIN .. SUNday 11A – 3 P Cerrito Vista Park … redwhiteblerainbow celebration.. po si tive vibration .. flex our sixpack glocal citizenship + smile shimmy wiggle giggle wiggle wobble Shake OUR Beauty … its our duty ! SunMusicFlowerDreamPower … can't sttend in 3D .. listen here :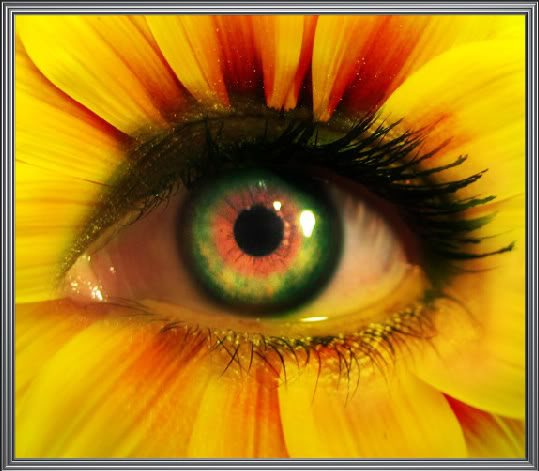 Donations HeadsUP > My Funding Pal evidently went offline, TBD. WCCUSD does not othewise have a direct digital donation portal, nor can we just select one, arrgh.
All donations to Public Radio keCg must be made directly by check, ol'school, payable to "keCg"  c/o El Cerrito High School ,540 Ashbury Ave. El Cerrito, CA 94530.
~~~~~~~~~~~~~~~~~~~~~~~~~~~~~~~~~~~~~~~~~~~~~~~~~~~~~~~~~~~
worldOneloves….  Dear RadioEscuchas.. SyntheSiStars + Double Rainbrrros..  worldOne festival 2021 will again hiatus due to public health precautions and protocols. Last summer we implemented a flash parade ~ carnaval procession around the theme USALL …  We are insploring ways to make a safely distanced 3D  joyful noise, nonetheless and all the more .. let's see what this Spring~Summer Tides + Times have in store .. will holla .. in the meanwhile .. HALO ..  Keep Healthy + Cultivate your Joy ..  Supple + Resilient + Relational ..Po si tive Vibrational ..
LuZAMor+ViBRaBueNa  … = ; ) ~
~~~~~~~~~~~~~~~~~~~~~~~~~~~~~~~~~~~~~~~~~~~~~~~~~~~~~~~~~~~~~~
Donate to keCg Public Radio throughout the rolling year.. whenever you feel inspired .. largesse or smallesse makes a differensse .. it's like your vote ! and Oh Say ! we can all clearly see, votes count !
worldOnefestival 2020 in public health hiatus .. 2021 TBD.. let's see what the rolling seasons have in store .. and let's practice all prudent preventatives .. take good care,  go easy as we can,  and do not hurry the  Redemption.
04.11  UPdate  ..  2020  worldOne July 4 Festival Hiatus Announced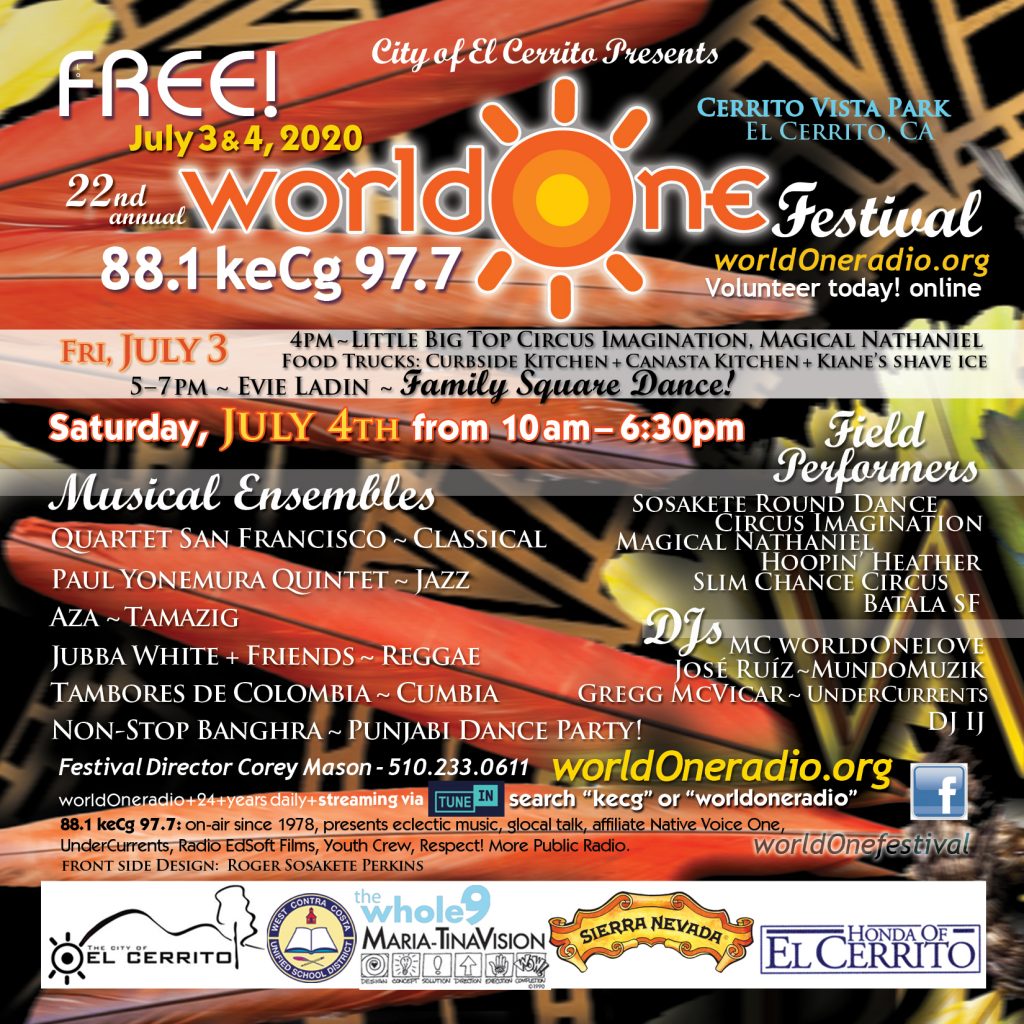 FOR IMMEDIATE RELEASE: 4/11/2020 
El City Council Approves City Manager Recommendation to Cancel the Annual 4th of July Festival for 2020 Due to COVID-19 Concerns 
El Cerrito, Calif: At the City Council meeting on April 7, 2020, the Council approved City Manager Karen Pinkos' strong recommendation that the 4th of July/worldOne Festival this summer be cancelled due to concerns around COVID-19. 
Like the rest of the state, El Cerrito's City Hall has been closed since Governor Newsom issued the orders to shelter at home … Additionally, even if the shelter-in- place order is lifted, she questioned the practice of planning for an event where large numbers of people would be in close proximity to each other so soon after the global pandemic emergency. 
After the meeting, City Manager Pinkos said: "This is a painful decision to make, because the 4th of July/worldOne Festival is such a wonderful annual celebration of our community. However, I believe it is in the best interest of our community to cancel the event this year. At a time when we are facing such uncertainty with respect to this public health crisis, we want to do what is necessary to protect our residents, visitors, and City staff. I want to thank the City Council and our residents for their understanding as we continue to do our best to respond to these unprecedented times."
2020 El Cerrito worldOneJuly 4 Fest 
will r e s t 
in its Magical Musical Box .. 
to Blossom in 2021  
Ojala ! 
Best ! + Appreciation Always  ..
Corey 
Practice Prudent Preventatives 
Go Easy As You Can   
Blessed Be ALLawe
03.27 UPdate ..
Our public health crisis has all of we watching the calendar .. as thousands of public events and necessarily postponed or cancelled.  Our annual July 3+4 festival is clearly in the concern zone. We'll be watching all CDC and local advisories.  We anticipate a requisite festival hiatus for this season.  We will seek to constellate the 2020  festival in its full blossom when the time is right.    Practice Prudent Preventatives. Go Easy As You Can. Blessed Be…  ALLAWE.
2.19  UPdate .. 
Our Thanks to Residents + Citizens + Council  .. Thanks all fest fam ..  Council, amidst a season of budget turbulence, chimed a resonant round of approval for full blossom of July 4 worldOnefestival 2020 ..  pure  panangelium will ensue ..  a musicopia …musicultura que cura..
Giving and Living Thanks All Around  ..  red white + true blue 
It Takes a Glocal Village … BRAVX !  U.S. A L L  
Direct donate here NOW TODAY, by March 31  via Go Fund Me to offset proposed budget cuts .. 
~~~~~~~~~~~~~~~~~~~~~~~~~~~~~~~~~~~~~~~~~~~~~~~~~~~~~
Volunteer ? 
let we know .. we'll be setting up ivolunteer interface soon .. for the moment  email aok to become acquainted .. worldone@worldoneradio.org 
Booth Space ?
Holla at we ! @12K folks will be looking for your wares there !  
Sponsorship ?   YES ! you bet !  Just whistle ..  stage wings available ..
Now is good, earlier is always better    worldone@worldoneradio.org
Donate ?
That will be great ! direct to City of El Cerrito, ReCreation Department,   in the name of July 4  worldOnefestival
~~~~~~~~~~~~~~~~~~~~~~~~~~~~~~~~~~~~~~~~~~~~~~~~~~~~~
a narrow passage , just ahead …
gotta rally the red~gold~green, and blue~white + red
El Cerrito City council meeting,  Tuesday Feb 18 ..
will discuss the immediate future of city arts and special events .
we've  all gotta send up a rocket, a flare in the air
to support the annual July 4 celebration
so that our Aspirations blossom + musicultura Balms burst in the air
Our original USALL multiple award winning  positive vibration
attend in person, make a joyful noise  .. 
and / or write to City Council 
a red white and bluminous praise through the City website 
and do it soon .. now… today.. tonight ..before next Tuesday Feb 18  City Council meeting 
As its up to allawe to make it all right in plain sight ..
so that our July 4 worldOne flags are still there !
decades long and strong  .. at some real pressing risk ..put that meeting and that letter on your to do list
and Dream Out Loud   ~  America in the Remix ! in our evolving eclectic revoluting relational positive vibrational resilient collective
Let's all do what we can do in a mighty floatilla of tiny canoes to help bring it all through … 
~~~~~~~~~~~~~~~~~~~~~~~~~~~~~~~~~~~~~~~~~~~~~~~~~~~~~~~~~~~~~~
Follow this link to view a first batch of festival 2019 fotos by Fletcher Oaks !
https://photos.fletcho.com/WorldOne-Festival-El-Cerrito-C/World-One-2019-July-4/
Hola ! Bon Jour ! Jo Sun !  WAZUP!  and Welcome to worldOneradio + festival.  We Will Circle, All Together … celebrating our 21st annual worldOne festival this July 2019 in Cerrito Vista Park, July 3rd + 4th.  Musicalities mundiales for U.S.ALL Our Relations peoplovpeacecopowerunity … musicultura que cura. 
A few helpful notes ~
Low back chairs or blankets are A-OK. High backs behind the plane of the sound tent please.,. we'll remind you ! 
July 3rd – Festivities begin under the blue and gold circus tent with Circus Imagination at 4 pm followed by a truly Polynesian Tahiti fete from 5-7 pm.  Food trucks in the park incl. Pacific and Mexican Fusion food + Hawaiian shave ice … oh, so nice.
July 4th – Main Stage entertainment from 10 am – 6:30 pm for you to shake your beauty. Enjoy all the festival goodness ~ worldOne T-shirts, arts + crafts booths, kids rides and games + food court … Enter our drawing to win generously donated prizes while you support the event.
On-site bike parking with Spokes Valet.  Free street parking nearby. Cerrito Vista Park is @ 1/2 mile east the Ohlone Greenway / BART tracks, corner Moeser and Pomona, and equidistant from EC Plaza and Del Norte BART. City is running free Para Transit shuttles from El Cerrito Plaza Bart.
We love dogs! … though no dogs are allowed in the park, except service dogs and dogs in carriers.   
BTW .. if you love it .. commend and recommend it, friend it  and vote for it !!
Best of the East Bay 2019— Vote!
we'll need to write-in our vote  .

.. we are still relatively "hidden"  in the upwelling  and roar of Bay Rim radio  or events radar …  while once discovered .. worldOneradio  listeners and event participants are generally quite up UP and joyfully, tearfully and oft sweetlysweatily overwhelmed ! 
Fletcher Oaks / 2018 worldOnefestival mandala …. center stage … we are circling + spiraling all together  …
This image is rendered by glocal Mohawk / Haudenosaunee Brother and Culture Keeper Roger Sosakete Perkins.. meet and dance with Roger at the festival …  Love Lifts Us Up Where We Belong ( Buffy Saint-Marie )  
"As always, very positive vibes all around … We are truly blessed to have such an open, mindful, and lovely fest right in our home City.  worldOne, because we only have ONE world! Namaste!"  Terri.
worldOnefestival 2017 Hi-lights below :  
Thank you One in All, for your Art and Love.
You are the Public in Public Radio … Public RadiYOU!  Your direct listener support is a vital part of our sustainability.  We seem to never miss the water til its gone … let's not miss the KeCg worldOne musicultral waters !